Welcome to the forum!
I created this because i find it harder to keep a website
up to date its easier on a live forum.

Why Fantasy Garden? Because you find snails in gardens and fantasy because it sounds elegant and pretty which is how my snails should be :)

Please register.



NEWS- New snails arrived 23/6/08 Rodatzi\'s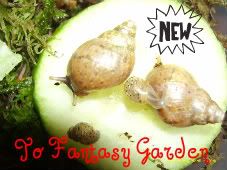 Rules to the forum





Account & Password



NO ONE on admin or mod status can ask you for a password it is against our rules we have no need for any password so dont give it out no matter who your talking too.
Incase anyone goes behind this forums back and pms for password details will be warned.
please remember to not give out any personal information and details on the boards. threw pm- unless you know the person in contact with do not give out your personal details.

You are only allowed one account we donnot allow multiple accounts due to problems or fake id which is against the law.
Your account name will only be changed for personal reasons otherwise its a no.
If you have forgotten or lost your password if you click onto forgot password on the log in page a new password will be sent and under your control panel you will be able to change it back into another password.




Swearing & Personal Attacks



Please donnot swear this is a family forum and we may have members under 16. (all members under 12 will need parental consent)

No personal problems with members should be dragged onto here if anyone is caught in the act of arguing you may get a warning if we know about these personal problems. we will NOT take sides.
All problems with members should be avoided add them to your foe list and you will not see there posts nor them see yours.




Discussion



When discussing any problems or general snail information please keep it opinianated but not argumentive.
This is how forum bickers happen and im sure no one wants to be here arguing when they can be posting some helpful things.




Pm System



Arguments can be taken to pm BUT you must not threaten anyone under pm! if one of the persons has not retaliated or sent a pm to you and gets a agressive pm they can take it to admin because its innapropriate behaviour. the person who sent the pm may get a warning if it is so agressive. if its minor a pm asking them to calm down will be sent.

Remember to make sure you know who your talking to threw pm when giving address or your phone number out.



Spamming



On one of my forums we had a certain ammount of people just putting one smiley face on a post we class this as spam! you will need to post a bit more than a smiley at least just a couple of words about the topic.
No frequant posts of websites aswell it just makes you out as using the forum a free add site.